Road Guardians Newsletter
August 2013
Industry Party

For those attending Harley-Davidson's 110th Celebration, stop by the Road Guardian Compound on Thursday, August 29, 2013 from 10:00 a.m.- 2:00 p.m. for our Industry Party.  Though not all of you ride Harley's, we invite you to stop by Road Guardian's World Headquarters in Big Bend, Wisconsin.  We look forward to seeing you at the HD Celebration or on Thursday at our Industry Party since our doors will be closed the rest of the weekend due to the event.  Click here for directions to the Road Guardian Compound.

Enjoy:
Refreshments – Food, Drink, Ice Cream
Live Music
Cigar Bar

Pan's Old Skool Bike Show
National motorcycle media and celebrities will be here for autographs and pictures
 Including:
"Rogue" Easyriders
Don Wood from Moonshiners
Charlie Brechtel from the The Charlie Brechtel Band
Riff Raff Classic Blues and Southern Rock Band we will have that day performing
Cycle Source
Skyhigh Promotions with the Brew City Babes
IronWorks with Marilyn Stemp
More special guests being added daily
Six = Zero

Director's Report 
by Vicki Sanfelipo, RN/EMT
The last few months have been filled with opportunities to introduce new ways of looking at motorcycle safety. One of those events was a motorcycle safety day at Eglin Airforce Base in Florida. My husband and I left Wisconsin on our bikes in the snow knowing that if we could get south 100 miles we would get past the snow and rain. By the time we got to Florida it was 80s and beautiful! We experienced all kinds of weather as we made the trek back and forth. That is always part of the adventure!
Now the challenge for any of us who teach motorcycle safety is to make it fun so it's not a drag for people to attend. The coordinator at Eglin, Robert Fusco did an excellent job of mixing the safety message with a Bike Show, had a course set up to practice skills, and a finished with a ride to Hooters for chicken wings! I had the privilege of being their keynote speaker that morning as they kicked things off. 
Click to continue reading.
Video from Sturgis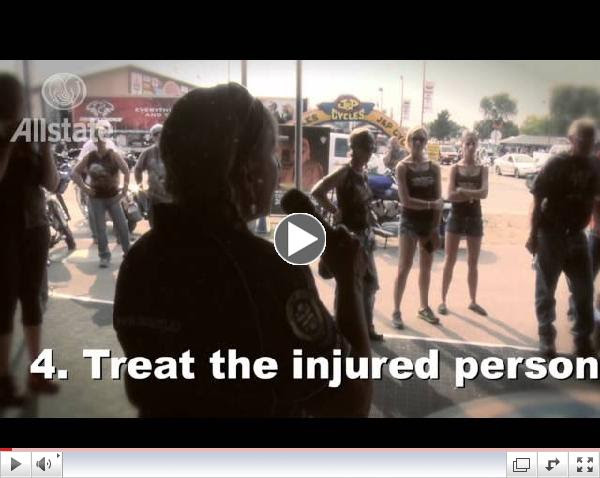 Allstate Rider Protection Project: Motorcycle Safety Demonstration Featuring Vicki Sanfelipo
Sincerely,
Vicki Sanfelipo
Accident Scene Management, Inc.
P.O. Box 40
Big Bend, WI 53103